Christopher Allen Brown, of Durant, Okla., passed from this life on Tuesday, Oct. 1, 2019 in Durant, Okla. at the age of 57. He was born on Friday, March 23, 1962 in Durant to Wendell Allen and Carolyn Jean (Cowley) Brown.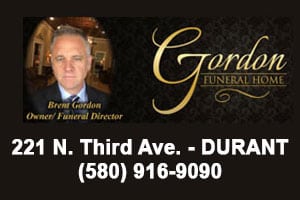 Christopher enjoyed arrowhead hunting.
He was preceded in death by his father, Wendell Allen Brown and brother, Michael Shawn Brown.
Survivors include mother Carolyn J. and husband Robert C. Manners of Durant, Okla.; brother, Mickey Lee Manners of Durant, Okla.; sister, Terri Lynn (Brown) and husband Jeffrey Doyle Hacker of Ardmore, Oklahoma; nephews: Derek Manners of Arlington, Va., Jimmy Dale Robertson of Sherman, Texas; niece, Taryn Morton of Durant, Okla.; cousin, Macee Faylene Cowley of Sherman, Texas; brother-in-law, Joshua Manners and sister-in-law, Anna Brown of Leavenworth, Kan.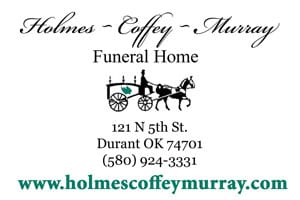 Cremation services were selected.
Arrangements are under the direction of Gordon Funeral Home, 221 N. Third Ave. in Durant.
Phone: (580) 916-9090
www.gordonfh.com