Kenneth Horner, a proud veteran of the United States Army, passed from this life and entered his rest on Saturday, October 12, 2019 at the age of 89.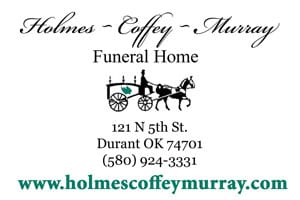 Kenneth served his country in the Army from 1953-1955. His church home was the First Baptist Church in Bennington, Okla. Kenneth was blessed to be able to live out his passion as a farmer and rancher. He looked forward to joining his friends for a good cup of coffee and lively conversation whenever possible.
Mr. Horner was preceded in death by his parents, Marion Curtis Horner and Alma Horner; siblings, Jack Horner, Flois Horner, John Horner, Marion Curtis "Curt" Horner, Jr., Fay Cummings, Paulene Dunegon, Irene Stanphill, and Ruth Horner.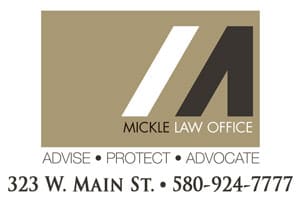 Mr. Horner is survived by his beloved wife Frankie of the home; children: LaVesta Buford and husband Mike of Bennington, Okla., Deborah Titsworth of Bennington, Okla., Gayle Lee and husband Jan of Boswell, Okla., Clenton Horner of Durant, Okla., Trenton Horner and wife Robin of Whitewright, Texas, and Brenton Horner of Plano, Texas; grandchildren: Wesley Buford, Amy Buford, Darren Titsworth, Dale Titsworth, Jana Combest, Joe Lee, Lauren Horner, Lani Horner, Miles Horner, Marcus Horner, and Abigail Horner; great-grandchildren: Dakota McAllister, K'Lynn Kresen, Darrell Lynn Titsworth, Dillon Titsworth, DaeLynn Titsworth, Dagney Titsworth, Julia McAllister, Emily Buford, Ruby Buford, and Walter Buford; also survived by his great-great grandchildren: Jaysik Combest, Jesse Gardner, Josie Gardner, Jaxi Combest, and Dawson Lee.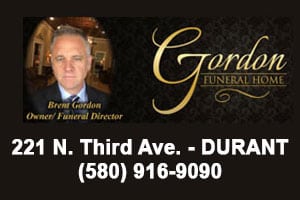 Family hour will be from 6-7 p.m. Wednesday, Oct. 16 at the Holmes~Coffey~Murray Funeral Home in Durant, Okla. A church service will be held at 10 a.m. Thursday, Oct. 17 at the First Baptist Church of Bennington, Okla. with Bro. Charles Williams and Jan Lee officiating. His final resting place will be the Bennington Cemetery with Joe Lee, Miles Horner, Marcus Horner, Glenn Horner, David Horner, and Stanley Davis. The honorary pallbearers will be Joe Rich and Monte Horner.
Services are under the direction of Holmes~Coffey~Murray Funeral Home in Durant, Okla. www.holmescoffeymurray.com