Cora Elizabeth Moore (Mitchell) Beavers, beloved mother, grandmother and aunt, passed away September 6, 2019 in Durant, Oklahoma, at the age of 98.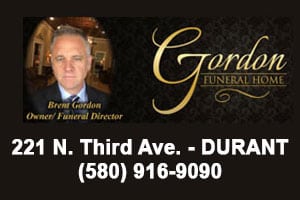 Elizabeth was born July 29, 1921 in Durant, Okla. to W. S. (Tobe) Moore and Julia Mae Moore.
She was educated at Durant High School and Southeastern State College (now SOSU) where she earned her degree in Home Economics and Business. There, she met and married fellow student and later coach, A. D. Mitchell, who predeceased her. They had one daughter, Marilynn Sue. She was then married to principal and educator, Willard Ray Beavers of Altus, Okla., who died in 2012.
She was an active member of First Church of the Nazarene and proud that her grandfather had donated the land on which their first church was built at another location.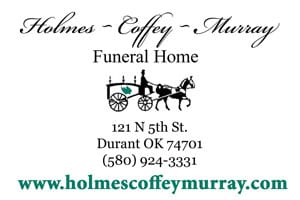 Mrs. Beavers is well-known in the field of nutrition in school food service. Her career expanded through the States of Oklahoma, Kansas and Texas. She served in all levels of the National School Food Service Assn and Texas School Food Service.
When Durant High School on Sixth Street was built in 1957-58, she assisted Superintendent Garland Godfrey in planning, selection of equipment purchased and aid in staffing the school lunch cafeteria. It was ironic that her daughter, Marilynn, was in the first senior class to both attend and graduate from the new high school in 1958.
She was popular with school lunch cafeteria managers and workers throughout the regions. Each summer, school lunch workshops were held throughout the states of Oklahoma, Kansas and Texas for the training of cafeteria workers in quantity cooking and orientation. She was well-liked, knowledgeable and friendly and many were quick to enroll in her classes. Mrs. Beavers encouraged schools to bake their own breads for more economical use of allocated funds. It was first met with opposition, but eventually embraced as a way to use government issued commodities and provide substantial economic savings for the program. When visiting schools, she asked the children to join her Clean Plate Club.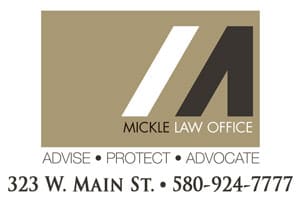 As Cafeteria Director in Beaumont, Texas, managing 28 schools, she aided storm victims. Category 5 Hurricane Carla warnings were issued to the Texas Gulf Coast and made landfall early Sept. 11, 1961. 43 people lost their lives, 31 in Texas. As a member of the Red Cross Disaster Team, she contacted her managers and asked them to report to work, and begin cooking beans, making sandwiches and coffee. She was recognized for her contribution and prompt action in relief efforts for those evacuees of the Gulf Coast.
Mrs. Beavers' career is included in the Archives on the Campus of the University of Mississippi National Food Service Management Institute. It honors the history of child nutrition in school lunch across the United States. Her contribution is well documented in the archives and is a great historical compilation at their website, www.nfsmi.org.
She was preceded in death by her parents, first husband, A. D. Mitchell; step-mother, Edna Irene Iker Moore; half-sister Twylia Moore Johnson, and second husband of 51 years, Willard Ray Beavers.
Survivors include her daughter and husband, Marilynn Mitchell and Dock Dill, Durant; granddaughter Pamela Byers Smith and husband Aaron; great grandsons, Weston and Wyatt Smith, Prosper, Texas, brother, Bruce Moore, Durant; niece Cathy Reece and husband Bob, Oklahoma City; nephew, Ted Moore, Durant; niece, Sherry Meador and husband, James, Newcastle; step-sons Ronnie Beavers, Roger Beavers and wife Doranne, Norman; step-grandsons, Zach Beavers and wife Mira, Norman, Tyler Beavers and wife Lexie, Denver Co., Cody Beavers, Norman and her dearest friend and sister-in-law, Liz Diehm, Norman.
A funeral service will be held at The Monterey (formerly The First Church of the Nazarene), on Wednesday, Sept. 11 at 2 p.m. Family hour will be held at Gordon Funeral Home Tuesday, Sept. 10 from 6-7 p.m. The Pastors John Kinsey and Brent Smith will conduct the service. Burial will follow in Highland Cemetery.
Pallbearers will be Ted Moore, Aaron Smith, Zach Beavers, Tyler Beavers, Cody Beavers, Bob Reece and Don Brimage.
Services are under the direction of Gordon Funeral Home, 221 N. Third Ave. in Durant.
In lieu of flowers, the family suggests donation to The First Church of the Nazarene Building Fund.